How it works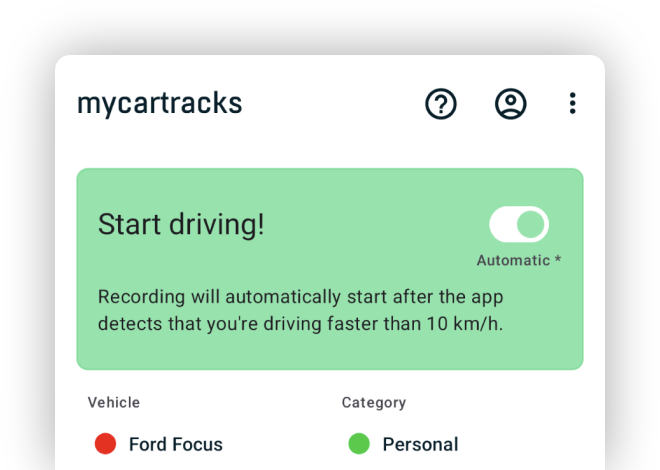 Install Mileage Tracking App
Switch from manual mileage logbooks to automatic mileage tracking app. Install, set account, drive.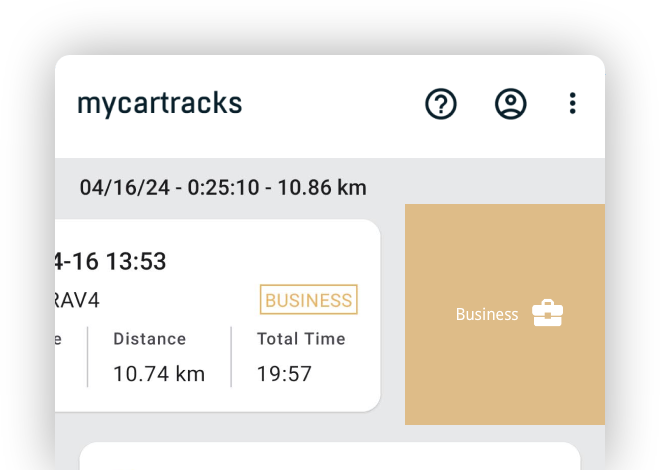 Drive and classify
Our unique, battery-friendly automatic driving detection knows when you're behind the wheels and records all drives. Classify manually or by work hours.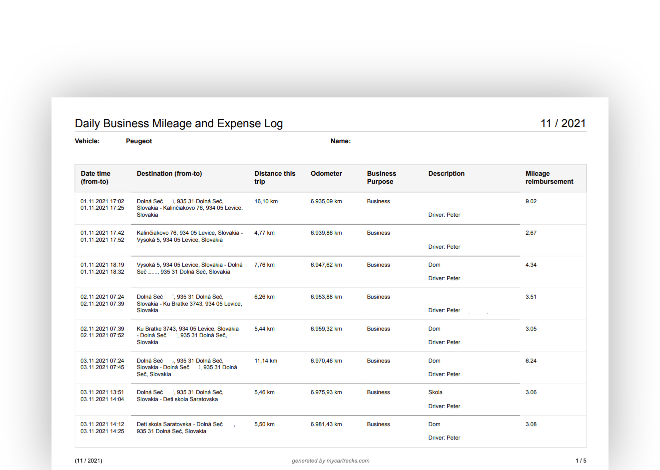 Generate reports for tax or reimbursement
MyCarTracks maintains an accurate record of your mileage stored securely in the cloud. Easily download beautiful Log book reports.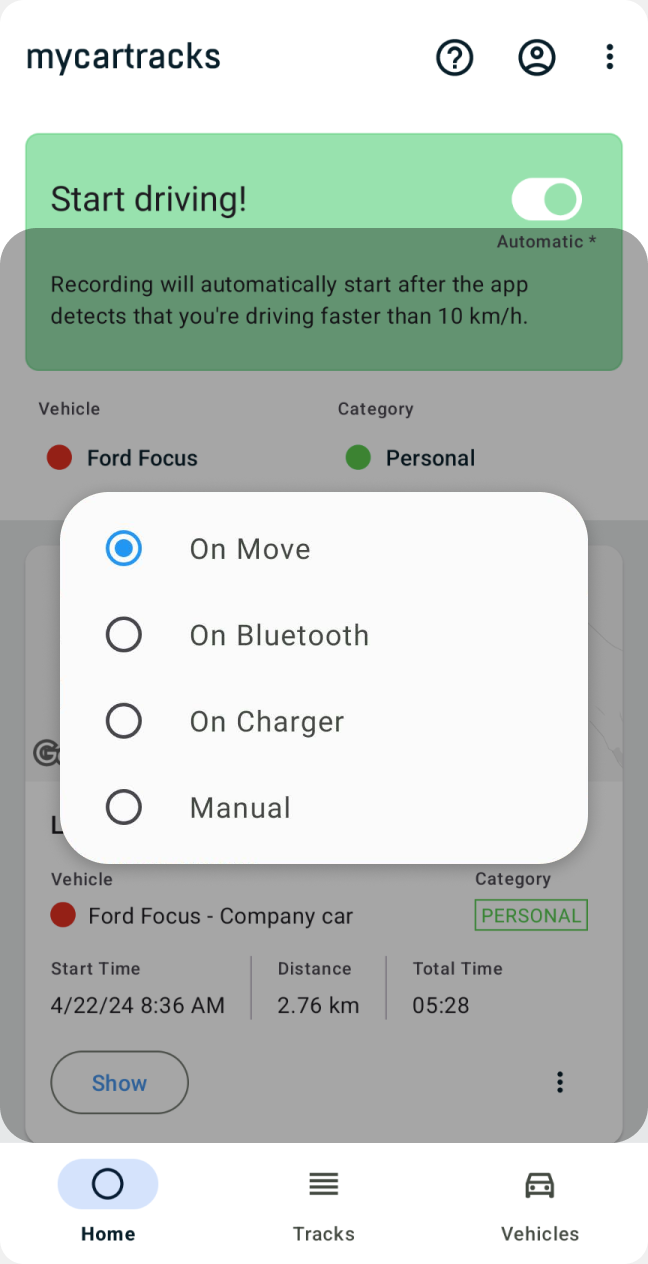 Automatically track
Forget about manual logging
MyCarTracks runs in the background, automatically detects when you're driving, and logs your mileage. An effortless mileage tracking app with multiple auto-tracking options allows you to decide when and how to track. We are crafting the auto-detection for more than 10 years to bring you an unbeatable battery-friendly solution to distinguish us from others and have a winning advantage for you.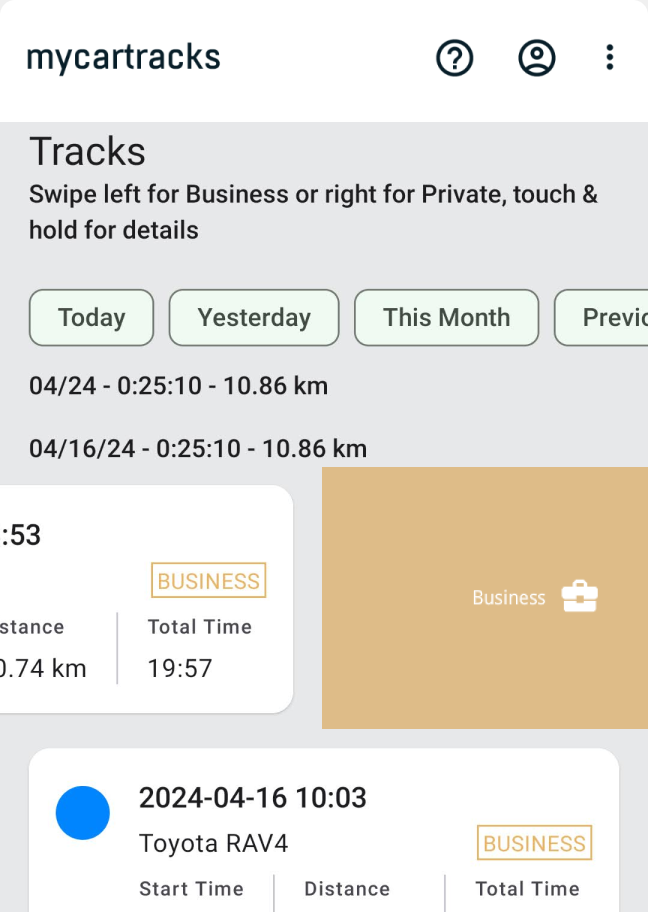 Categorize
Easy classification
MyCarTracks app allows you to change the Business or Personal purpose anytime during the day or classify journeys later with a simple swipe. Work hours feature let you set up the hours of any day when tracks will be auto classified.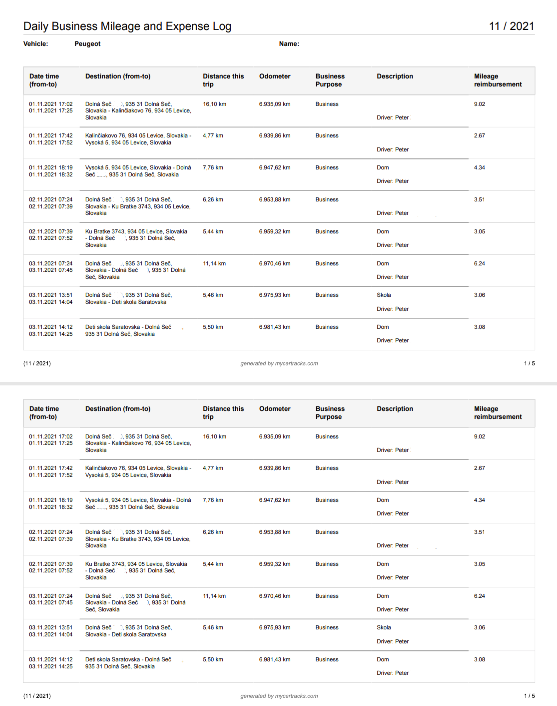 Report
Reports ready when needed
Your tax-compliant mileage reports are available anytime you need them. PDF or Excel reports that you can send to your employer or accountant. You can set up your own rates, leave us to handle up-to-date rates, or choose reports without reimbursement - it's you who decides. Use the web console for more advanced features.
Automate your mileage documentation
Teams
Need a solution for your team?
No problem!
MyCarTracks is designed mainly for fleets, therefore, we are a perfect solution if you have more vehicles that you want to track and create mileage reports.
Mileage tracker for Teams
Our customers love us, and we love them
"Awesome. Can't do my job without it"
- Brett Slack
"Perfect! I love this app, runs seamlessly in the background and records my trips near perfectly on my Galaxy Note3. Highly recommended. Also received helpful advice when needed from the developer. 5 stars!!"
- David Cann
"I use this app for work as a Transportation Engineer and everything is logical and easy to maneuver with."
- Isaac Prizant
Additional features that help you grow your business

Multiple vehicles support
Owning or driving more than one vehicle? We got you covered, base plan comes with 2 vehicles included.

Work Hours
Set up your business hours to automatically classify tracks or limit recording.
Full offline availability
Data coverage is not a problem, app works offline and syncs when internet is available.

Mileage reimbursements
Ask your employee to reimburse your mileage based on real recorded journeys.

Share your location
Your customers don't need to be left in the unknown. Let them know where the delivery is.

Log book
A standard log book or CPM reports with custom or government-defined rates that you can use for taxes and claiming the mileage deductions.

Proof of work done
Prove that you made the work for your customer. With shareable maps and reports, you are covered.

Drive score
Measure the quantity and quality of your driving behavior. See how you improve in time.

Tracks history & details
Travel back in time, check where you travelled directly on a map.